Atenas is the capital city of the Atenas canton located in Costa Rica's province of Alajuela. With the same translated name as the capital of Greece, the small town covers an area of just 8.93 square kilometers and boasts a population of approximately 8,000 people.


Local legend has it that the town was named after the Greek capital because Jose Rafael Gallegos Alvarado, the region's chief of state at the time, had a great deal of admiration for the European country.
Community & Traditions
The city of Atenas sits at an elevation of 698 meters above sea level and is situated on the Central Valley's western edge, just 35 kilometers from Costa Rica's capital city of San Jose.
Surrounded by mountains and coffee plantations, Atenas is known as a very prosperous agricultural center and it hosts a farmer's market every week. As a result, the people of Atenas tend to be blue-collar workers who focus heavily on the community traditions such as growing and vending fresh produce.
Perfect Weather
Atenas is also known for having one of the best climates in the world, as the words "El Mejor Clima del Mundo" can be found on every bus in the city. Typically, the temperature hovers around 80 degrees Fahrenheit and dips to the 60's during the night.
Central Park of Atenas
Perhaps the most popular site in the city of Atenas is its central park, which is a perfect place for travelers to relax and people watch. With palm trees hovering above the park, tourists can also expect to see a variety of birds including parrots and toucans. Cafes and restaurants located within the park serve some of Costa Rica's delicious cuisine including the toronjas rellenas (stuffed grapefruits), which are a popular local dessert.

Map of the Area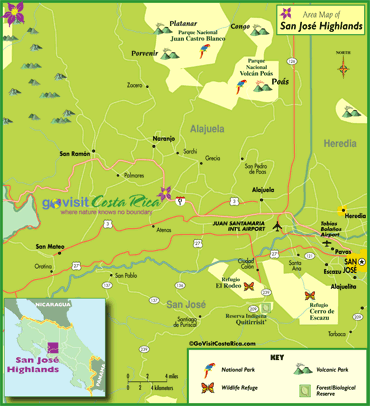 Click to enlarge map - Map of the Area

Nearby shops and markets are the perfect place to purchase souvenirs such as handcrafted jewelery or traditional Costa Rican clothing.
While many people may view the small town of Atenas as a simple stop-over on the way to one of the beautiful nearby beaches, those spending more time in the community can enjoy spending time at the public swimming pool and Zoo Ave, which is a wildlife rescue and breeding center. Zoo Ave is home to more than 130 animal species.
In addition to these popular tourist destinations, the town of Atenas also boasts a community health center, tennis court and a fitness center, giving visitors a wide range of recreational opportunities.